Luxury Hungarian Goose Down Pillow, Soft – PureDelight
Regular price
$94
Sale price
$79
Unit price
per
Sale
Sold out
Real Hungarian goose down offers an unparalleled night's sleep, providing the comfort that you can come to expect from a genuine goose down pillow. The outer shell offers a velvety feel and is made of 100% sateen to deliver the height of luxury and comfort. If you're looking for the perfect Hungarian goose down pillow, then look no further.
Please add items to your cart to see shipping cost.
Materials, Product details

Filling: Premium Hungarian white goose down (may contain max. 3% gray down)

Firmness: Soft

Fill Power: 800+

Cover:
– 100% sateen cotton, white
– Thread Count: 405 true threads
– Downproof: fabric and double stitching guaranteed to keep down safely inside

Cruelty-free bedding

Handmade in Hungary
Shipping and Returns

Shipping
– Please check shipping rates by adding products to your cart.
– Shipping cost will decrease above 199USD and it is FREE above 299USD
– All packages are fully insured and tracked. We keep you informed throughout the shipping and delivery process.
– Average delivery time is 6-8 days.

Returns
We make returns easy: simply return your order within 30 days from purchase date and we'll refund or credit the value of the item.
Guarantees

30 days money-back guarantee, no questions asked
If you're unsatisfied with your purchase, return it to us for a replacement or refund.

Lifetime guarantee
We offer a full lifetime guarantee on the down in all our pillows and comforters

1-year warranty
Your warranty covers you against:
– Case stitching coming apart
– Faulty workmanship during manufacture, such as holes or fabric flaws, feather/down escaping from the product, migration or clumping of filling
View full details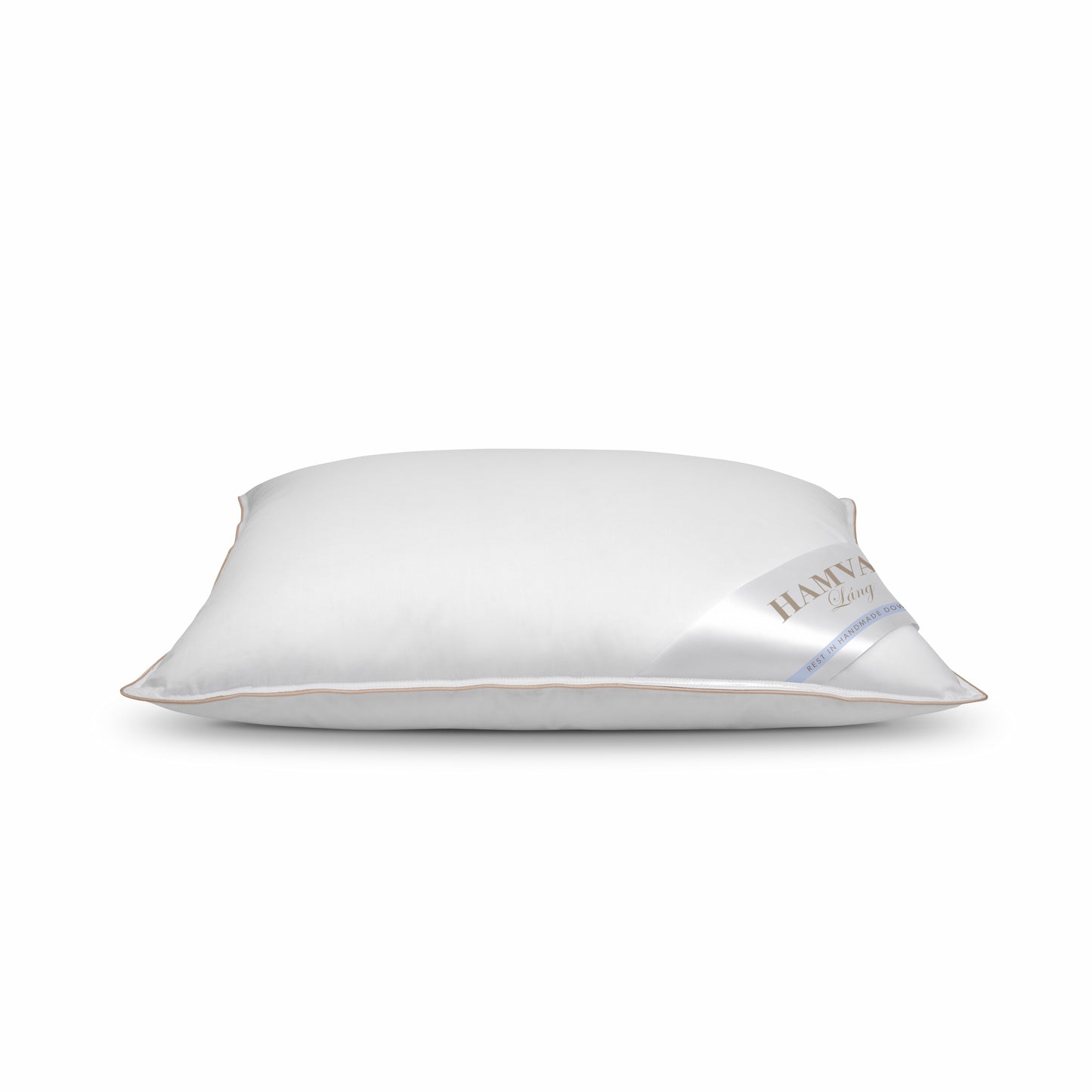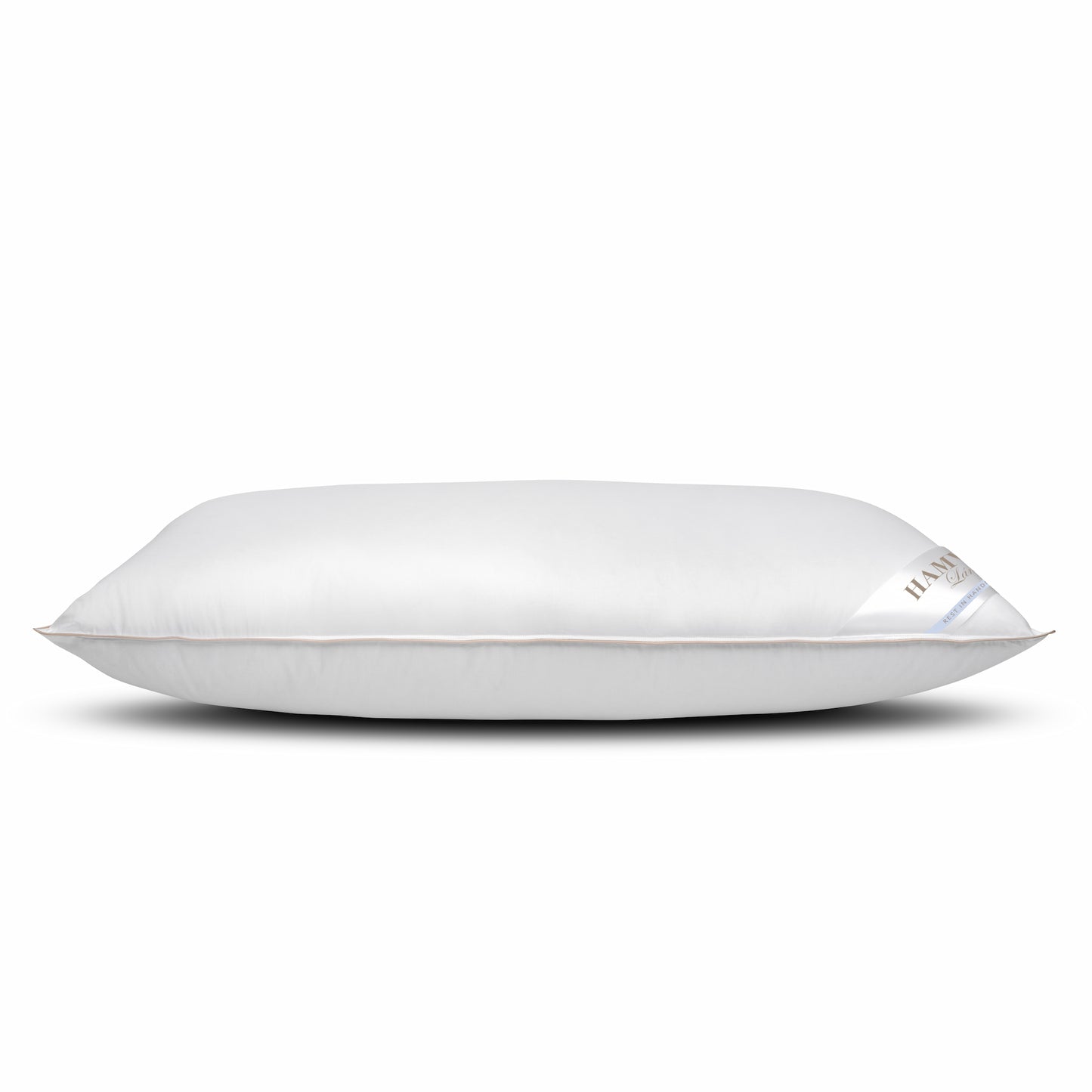 Goose down pillow – soft
Firmness: Soft
Fill: premium Hungarian goose down
Fill power: 800+
Shell: 100% sateen cotton, downproof
Filling weights: 
Junior: 250g / 8.8oz. Standard: 440g / 15.5oz. Queen: 495g / 17.5oz. King: 770g / 27oz

Pillowcases and Pillow protectors

 

are available
Custom sizes available
Certifications:
Nomite – Suitable for people suffering from house dust allergies
Oeko-Tex Standard 100 – ensuring that they don't contain harmful substances.
HOW THE PUREDELIGHT PILLOW COMPARES:

To the PureComfort: The PureDelight pillows are somewhat softer than the PureComfort ones. This is because 30% of the PureComfort fill contains fine goose feathers. These feathers give the PureComfort more loft and sturdiness.
 
To the Chamber Pillow: The PureDelight Pillows are softer than the Chamber Pillow. This is because the Chamber Pillow is filled in the center with goose feathers that provide more support.

Please contact us if you need further advice. We're here to help you find your perfect pillow.


100% Real Hungarian Goose Down.
Have you ever experienced real Hungarian goose down? It's unlike anything else out there thanks to its light, airy feel and exceptional thermal qualities.
Getting a great night's sleep on authentic Hamvay-Láng Hungarian goose down is an experience you'll love. Located in Hungary, we locally source goose down from trusted sellers. If you're ready to upgrade your sleep experience, the PureDelight Goose Down Pillow is for you. Each pillow is backed by our signature money-back guarantee, and we're committed to helping you sleep perfectly.

Upgrade Your Sleep Experience!

We invite you to try the PureDelight goose down pillow to find out what you've been missing. These genuine goose down pillows will look beautiful on your bed, and they'll beckon you to a wonderful night's sleep each evening. Upgrade your sleep experience today with the PureDelight Hungarian Goose Down Pillow.
Collapsible content
Directly from Hungary

A name and quality you can trust.

Hamvay-Láng is a family-owned Hungarian company that delights in sharing Hungarian goose down with people around the globe. We work directly with the best Hungarian goose down suppliers in the country to assure the highest-quality Hungarian goose down goes into every one of our products. Driven by quality craftsmanship and the passionate pursuit of helping people achieve the perfect night's sleep, Hamvay-Láng crafts one of the finest Hungarian goose down comforters and pillows in the world that you can cherish for years to come. We use 100% real Hungarian goose down and natural materials and each Hamvay-Láng product is hand-made so you can feel good about your purchase.
Why Hungarian goose down?

Not all down is created equal. When it comes to bedding filling, goose down is considered the best product on the market. And, more specifically, Hungarian goose down provides an even more luxurious choice than other types of goose down thanks to its exceptional thermal qualities and softness.

The special qualities of Hungarian goose down come from the breeding heritage of Hungarian geese and the country's climate. Hungary is well-known for long, cold winters. Hungarian geese have adapted over the past 1,000-plus years to survive in the harshest weather conditions, meaning their feathers and down provide them with the insulation they need to survive. Thus, their down is highly desirable for its softness and thermal qualities. Hungarian goose down has long been considered the most luxurious comforter and pillow filling in the world because of this, rewarding sleepers with a comfortable and restful nights' sleep.
What is Fill Power?

Fill power tells you about the fullness of the down in your pillow. Higher fill power (600-850) down pillows are generally lighter, softer, and retain their shape longer. Fluff out your pillow every morning to help revive those precious down clusters and keep them working well for you.
Great choice for allergy sufferers

Despite what is generally believed, down bedding is a perfect choice for allergy sufferers. Since it's washed in naturally warm spring water, fewer chemicals are used. It's also considered super-clean and hypoallergenic due to excellent oxygen and turbidity ratings. What's more, this bedding is cased in certified Nomite fabric, ideal for sleepers that suffer from a house dust mite allergy. All Hamvay-Láng bedding is also OEKO-TEX certified which means they're manufactured without the use of harmful substances and chemicals.
Original Hungarian Goose Down
Free shipping on orders over $299
30 days money-back guarantee