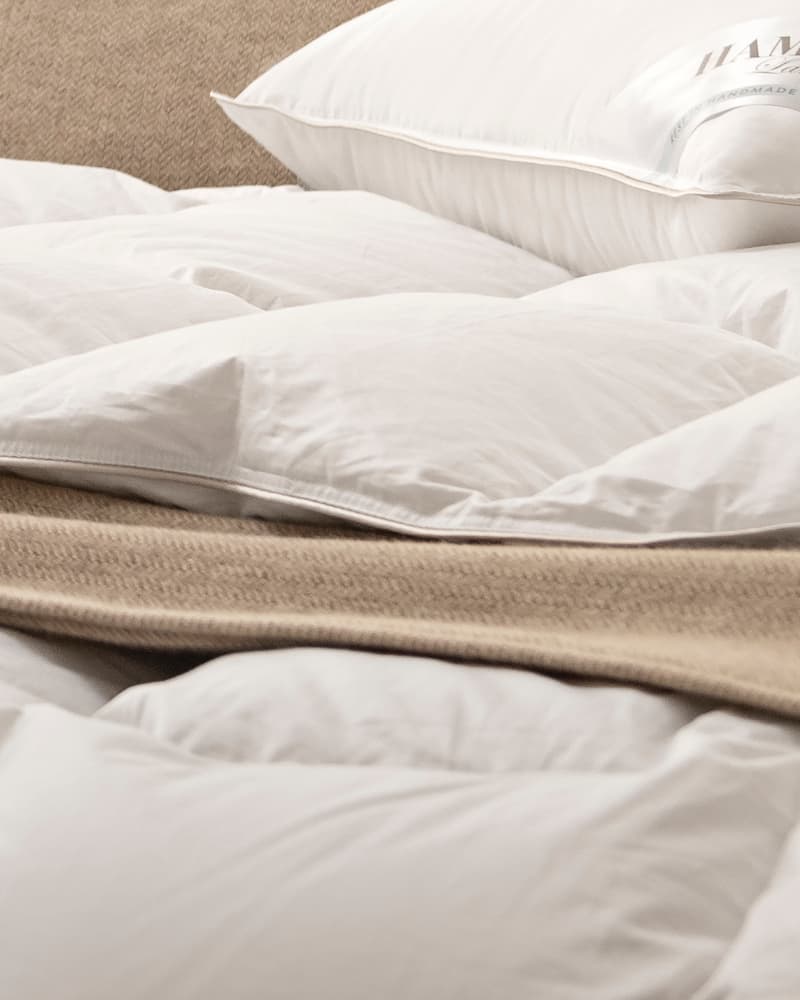 Hungarian Goose Down Bedding
Driven by quality craftsmanship and the passionate pursuit of helping people achieve the perfect night's sleep,
Hamvay-Láng
crafts one of the finest Hungarian goose down comforters and pillows in the world. We use 100% real Hungarian goose down and natural materials and each Hamvay-Láng product is hand-made so you can feel good about your purchase and be assured it is of the highest quality. And since we are located in Hungary and source our down from here, you can be assured you are getting authentic goose down bedding that you can cherish for years to come.
PureDelight
Hamvay-Láng PureDelight pillows and comforters are filled with white Hungarian goose down, offering authentic goose down bedding for anyone craving the look and feel of authentic down. The shell is made with a silky sateen edged with delicate piping to create the softest feel possible. Authentic, luxury quality inside and out adds up to a perfect combination of rest and pampering. 
PureComfort
PureComfort pillows and comforters are covered in 100% fine cotton casing and filled with gray goose down.
As always, we work with the finest natural materials. No chemicals are used; the down is washed with physically filtered purified water from our own well. This way we ensure that both the product and the environment remain clean and natural.
PureComfort Hungarian goose down pillows and comforters. The name says it all: natural, clean, and comfortable bedding. This new product line offers pure Hungarian goose down, beauty in every detail, and exceptional value for your money.
All our down beddings are Oeko-Tex and Nomite certified.
Never Settle for Less
A comfortable night's sleep on luxurious bedding should never be unattainable. Sleep should be a joyful experience, and your bedding should help create it. But we have all had an experience where our bedding and pillows have been less than comfortable. And with so many options on the market, it's hard to know what comforters, sheets, and pillows are best. And worse, some companies falsely advertise their products, so you never know if that Hungarian goose down pillow or comforter is the real deal. We know the frustration. That's why we're here: to help create a quality sleep experience through exceptional bedding and honesty. Explore Hamvay-Láng and explore luxurious sleep experiences for all.
We deliver bedding perfection
Simply put, Hamvay-Láng goose down pillows and comforters equate to bedding perfection. Using only the highest quality natural materials and Hungarian goose down, we ensure an unparalleled sleeping experience that makes going to bed the highlight of your day.
Upgrade Your Sleep Experience
Our team of bedding experts has committed time and research into creating the perfect down pillows and comforters. We understand that new bedding is an investment, and that's why we work hard to ensure that you get the most from your money with Hamvay-Láng products. If you have any questions or concerns with your new goose down pillow or comforter, we urge you to reach out to our friendly customer support team, who is always available to answer your questions.
Original Hungarian Goose Down
Free shipping on orders over $299
30 days money-back guarantee